News
Modern Gardens Magazine - March 2019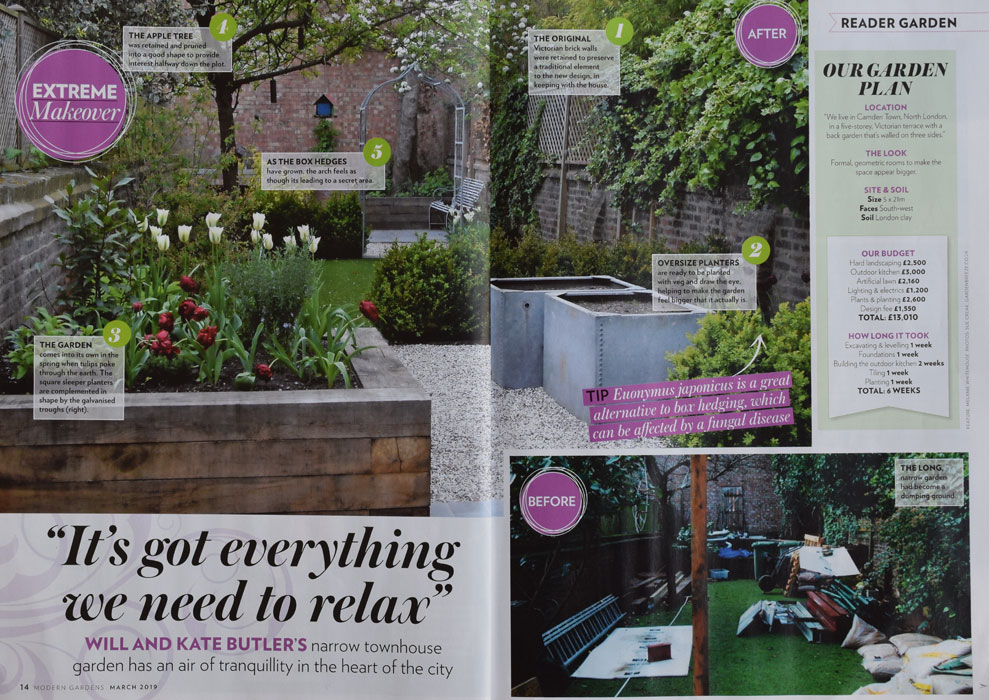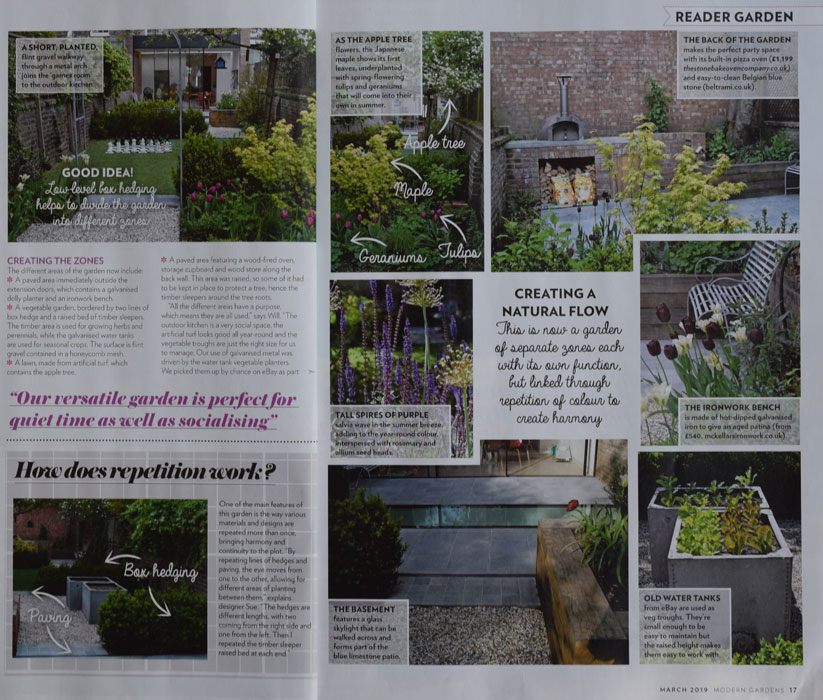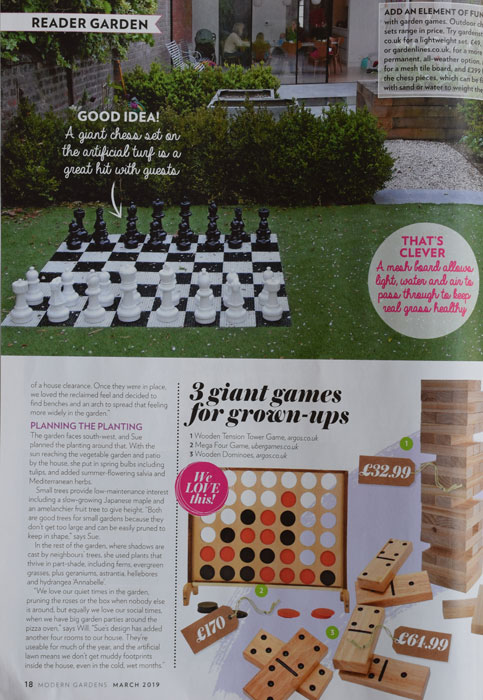 Really pleased to see one of my projects, a Town Garden in Camden, is featured in a 5 page spread in this edition of Modern Gardens magazine. The article includes details on how the garden is divided into "separate zones each with its own function, but linked through repetition of colour to create harmony". Low hedges separate the garden into different areas, which include a lawn, outdoor kitchen and a vegetable garden. The clients sourced some old water tanks for growing salad and vegetable crops, which go well with the arch and the two ironwork benches. The clients said they "love our quiet times in the garden, pruning the roses or the box when nobody else is around, but equally we love our social times when we have big garden parties around the pizza oven"
APL Awards 2018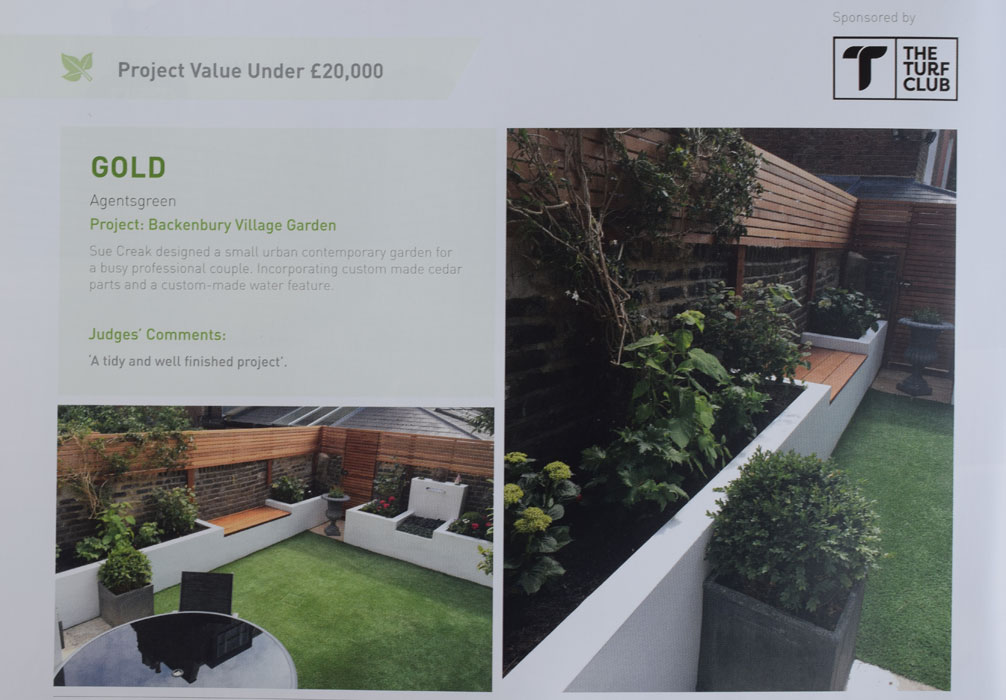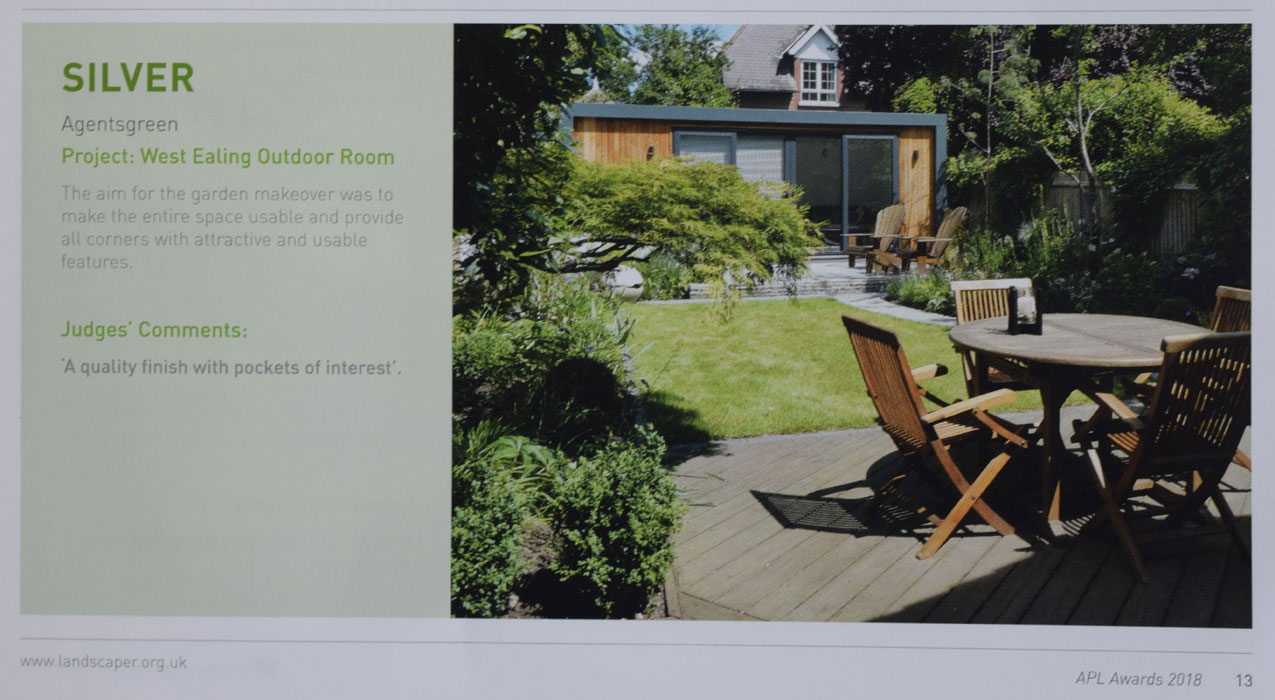 These two gardens were also built by Agents Green and shortlisted as finalists in the 2018 APL Awards. The one on the left is a small courtyard in Brackenbury Village with a built in bench & water feature; this was awarded Gold. The one on the right is in Ealing, includes a real (!) lawn, and a curvy path leading to a new garden office, and was awarded Silver.
APL Awards 2017
Us designers are only as good as the landscaping teams who turn our design into reality. Agents Green built and planted this garden from my design, and entered it into the 2017 Association of Professional Landscapers (APL) Awards, where they were selected as a finalist, and awarded a Gold, High Commended Award. These awards are held annually to recognise the high standards of landscaping carried out by their registered members. Delighted that Gerald and his team did such a great job.
---
Reviews
Here are some nice things my clients have said:
JD, Chiswick
I was totally amazed! What a transformation!
CW, Ealing
Your design is turning out to be everything and more than I had hoped for. This evening I sat outside after work for the first time and it gave me such pleasure...I can't thank you enough, it has transformed my garden and I am sure will give years of enjoyment..It still amazes me that you arrived at a garden design which blends perfectly with my living space before any of the interior was in place!
JRG, Acton
Everything's coming together now in the house and the garden and we just wanted to thank you for your great design and input into what will be a lovely garden. And for bringing in Paul who has done an amazing job….we can look forward to enjoying it over the summer. Do let us know if you need any recommendations – we would be happy to help.
GH, Notting Hill
Thanks Sue , garden under snow but we are very happy with it . It has looked good throughout the winter which was great.
BG, Tooting
We love our new garden! And everything is growing especially the grasses in the front after all that rain we had in the last couple of days. The new garden furniture is arriving on Tuesday so please come and see us any time.
DB, Hammersmith
….changes our life.
VW, Ealing
Thank you so much for working with us! The garden looks amazing.
NS, Ealing
…should you ever need a recommendation for a prospective client look no further!
KA, Acton
Thanks for all the hard work you have put in to creating such a beautiful garden for us!
LD, Chiswick
We are really thrilled with how it's looking….We are so pleased - I keep looking at it!
TC, Ealing
Our garden is looking lovely and is now in full bloom with beautiful, yellow, daisy-like flowers. The garden looks beautiful, we're really pleased with it! Thank you for designing our garden Sue, we are thrilled with the result and would be very happy to recommend your services.
Further reviews are available on Houzz :

---
About Me
I studied for a diploma in garden design at the English Gardening School, based at the Chelsea Physic Garden in London, graduating with a distinction in 2003. During the course I was a shortlisted as a competition finalist to design the British Memorial garden in Hannover Square, New York.
I am passionate about greening urban space and love to create gardens that are stylish and easy to use, and that establish a connection with the architecture and interior of the house, and the surrounding landscape.
Before swapping careers, I worked in the I.T. department at British Airways as a programmer, business analyst and project manager, designing and building computer systems, and prior to that, a consultancy in Oxfordshire that advised on coastal erosion. I have a degree in Physical Geography from Reading, and a PhD, researching sediments filling an estuary in South Devon, from Plymouth University.
So in bit of a roundabout way, I have returned to my love of landscapes and geography. I love researching plants and materials that can be used to create a garden. And I still get to use my IT skills, using Vectorworks, a CAD system, to produce 2D and 3D plans to help clients visualise how the garden is doing to look, and to give accurate drawings to landscapers to build a garden.
I love walking around new places, often with a camera in hand, looking at gardens, buildings, landscapes and plants to see how they are used to create places where you might want to spend some time.
Most of my garden design work is in the West London boroughs of Ealing, Acton, Chiswick, Hammersmith and Fulham and the Home Counties, though I'm happy to work outside of these areas. Do call if you have a project you would like to discuss.
Thanks to the following landscaping teams who have built the gardens featured on this site: Paul Jenner, Agents Green, Belderbos Landscapes, Botanicus, Garden Solutions, Kiwi Landscapes and in some cases the client's builders.
About the Site
All materials on this web site, including photographs, plans and text, and the underlying software code are owned directly by myself.
This garden design practise is registered at 49 Fordhook Avenue, Ealing, London, W5 3LS